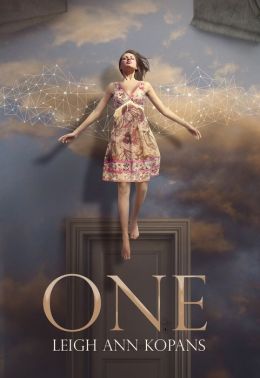 Tomorrow is the BIG DAY you guys.
I think I might be almost as nervous as Leigh Ann herself...
...okay, probably not.
I feel really bad because I haven't left reviews ANYWHERE since I heard that this book would be published. Leigh Ann probably thinks I've been lying to her this whole time and really I hate the book or something equally insane. Honestly, I've thought about it a lot, and tried to write one several times, but it was never what I wanted to say. Today, in the calm before the storm, I'll try one more time.
ONE is a superhero story. But it's so much more than that.
It's the tale of a young woman finding herself. Of thinking and saying she's fine, but realizing she's totally not. Merrin, the main character, sees herself as broken, and sets out to "fix" herself. She wants to find a way to make herself whole.
But really, she never needed to.
When she meets Elias, and they find out how compatible they are, she runs. My husband put it this way, "It's like she was so comfortable with being uncomfortable, that when she finally got what she thought she wanted, she couldn't handle it." This throws her for a loop, and she finds herself not knowing what she really wants anymore.
I think a lot of people can relate to that, young and old.
By the end of the story, Merrin has accepted the fact that she doesn't have to be alone. She doesn't have to do everything by herself. It's okay to need other people for some things, especially when those people love and care for you and WANT to help you. It's okay to depend on them.
You can be broken, and still be whole.
That's what ONE is for me. If we feel broken, it's okay to reach out. Because maybe someone else is broken too, and you can lean on each other. And together, you're made whole.
Honestly, Leigh Ann probably didn't plan it, but it's a very Messianic story in this sense, and rings true with me on so many Christian-y levels. The Savior gave His life for us. We're broken, and He makes us whole.
So that's my review of ONE. It doesn't do it justice by a longshot, but it's how I feel when I read it I hope that if any of you are thinking about getting it, whether for yourself or a son or daughter, or grandchild, niece or nephew, that you will. I'll give a warning for my LDS readers, there is some swearing, but it is not excessive, and nothing that detracts from the story. I'd probably rate it PG according to today's standards.
A fantastic, genuine story for young adult readers.
You can pre-order ONE in any of these formats:
Amazon; Paperback
Amazon; Kindle
Barnes & Noble; Nook
Add ONE to your
Goodreads shelf
, and follow Leigh Ann at
her blog
, or on
Twitter
and/or
Facebook
.
And enjoy :)
-DC