First of all...
Yes I am going to draw this out.
On behalf of Britney and myself, I want to thank EVERYONE who entered and participated, because you guys have been awesome!
Secondly...
Oh who am I kidding.
We had a total of 21 entries
(between 8 really cool people).
And now... courtesy of Random.Org, the number generated was: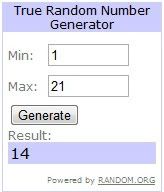 Which
(because I decided to go backwards)
means the winner is
ROSEANNE!
So email me your address (PageTraveler@gmail.com) and your gifts will be out to you soon!
(I'll send you an email when they're on the way!)
Congratulations Roseanne, and thanks again to everyone who entered and spread the word. We SO appreciate you, and you are ALL cool kids in my book!
Page Traveler
P.S.
If you're not Roseanne, click

HERE

to order your copy of Risen, in paperback, or e-book... ready? Set? GO!