Welcome to our newest traveler: Kate! Thanks for coming along for the ride!
I'm sure all of you who read this have probably lost someone, at some point in your life, to death.
I know I have.
I want to take some time today to remember some amazing people, who are no longer with us on this side of the veil.
Her and my grandpa on their wedding day, 1952,
with their parents.
First, my grandmother, Eva May. She was a beautiful woman, born in May, 1936 in Arizona. She grew up there and married my grandfather. He was in the military, so they traveled all over the US, and the world. They have six children, four girls, and two boys. One of which is my father.
Some memories I have of my grandmother: at her house, there were lots of toys. And they had a small gumball machine that took pennies. She always had extra pennies laying around... And if we didn't want a gumball, she had sticks of gum hidden in the bread box. (How funny that I remember these odd things!) Whenever I asked her for a drink of water, she would let me use a small glass cup. I don't know if it was always the same one, but I think it must have been... It made me feel so special and trusted, because whenever I asked anyone else for a drink, they'd give it to me in a plastic cup (because I was so little) I don't blame them, but my grandma was different.
That's her (51), holding my sister (9 days old),
with me (2yrs) looking on.
Somehow, one of those little glass cups ended up at my family's house after Grandma died in April of 1991. I don't know how it got there, but I took it and kept it safe. I dropped it once, and it got a small crack in the bottom. I cried about that. But I still have it, tucked away safe. I've always thought of her as being my guardian angel.
I miss her very much, but I know I'll see her again.
I've also lost two friends to suicide. Both seemed so happy, no one saw either event coming, and it was a hard blow on a lot of us who were with them in high school. Sadly, I don't have pictures of either of them, but I have a lot of memories with me.
I also lost a step-grandmother to natural death. My grandfather, who was married to the woman above, remarried, then got divorced, then remarried again. That woman was a strong personality, and fit our family much better than his second wife. (Again, I have no pictures.) She kept him company and they were happy for years until she too passed away. He is now married again, and still happy.
Next, a couple of people who are very close to Turner.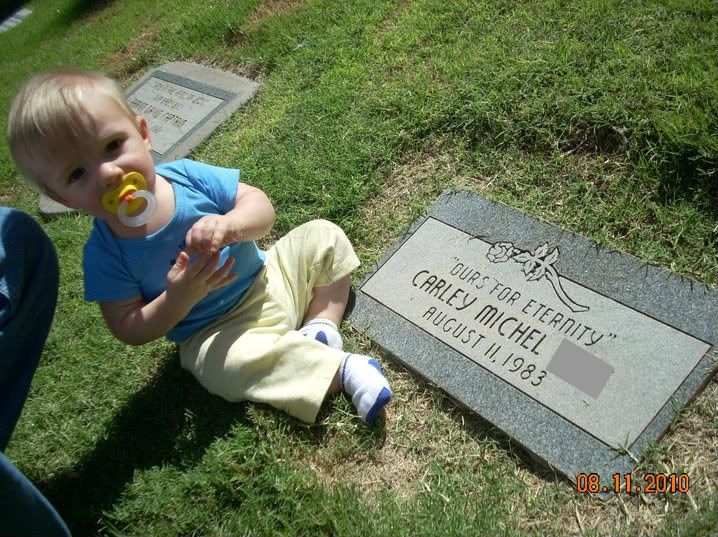 He had a sister, born before he was, who only lived a few hours. Her name was Carley Michel. Even though he's never seen her in this life, he has always felt very close to her spiritually. We took Monkey to visit her grave last year, and it was a very sweet visit.
Today is her birthday, in fact. She would be 28 years old, but she was more needed on the other side. We'll miss her, but look forward to seeing her again.
Turner has this to say about her:
"For those of you who know MY family, you've never met one of my sisters. In this life you never will. In fact I never physically met her either.
At 7 months pregnant there was something wrong with her. I can never remember what the problem was precisely, but the result was that the doctors
felt that the best course of action would be to operate. They performed an emergency C-section. Unfortunately my sisters lungs hadn't developed enough to function outside of my mother's womb. She lived fewer than 2 hours.
I love my siblings, for all our ups and downs. They are a large part of who I am today.
Spiritually I have always felt closest to Carley. Darci told our story and how somehow I was ok after that last breakup. Carley was there to help me through it and as we dated to make sure I didn't mess things up."
Lastly, Turner's aunt, LaDawn.
I never knew LaDawn, but I have heard much about her from Turner's family. She was a beautiful woman, loving, musical, and kind. She passed away in the prime of her life, when she was 27. She was married, and had three children at the time.
I had the wonderful opportunity to sing with Turner's mother and sister in church recently (LaDawn's sister and niece, respectively). We were practicing the song (which was one that LaDawn's mother had written, and that, apparently LaDawn had sung) the night before. I sang my little solo part, and when we paused to work something out, Turner's mom looked like she was about to cry. When we asked why, she said that I had sounded so much like LaDawn when I sang, it shocked her a little bit. It made me so happy to think that I have some small thing in common with her, who I have never met. (Again, sorry for the lack of pictures.)
Turner has this to say about LaDawn:
"The only things I really remember about my aunt LaDawn are that she always smiled & laughed a lot. My uncle also insists that she was also helping me with Darci, and I believe that. She was one of the kindest people. She passed away of the Four Corners disease when I was...6? 8? years old. Her Husband decided, for reasons that are
between him, my uncles, & grandpa, that he no longer wanted anything to do with the family. Their oldest son has started to attend some family stuff again, now that he's old enough to decide for himself."
Although it is a sad thing not to have these amazing people with us anymore, I always love when the time comes around to remember them. My Grandmother's birthday and Carley's birthday are the ones that seem to hit us the closest to home. I love knowing that through the Savior, and the power of His priesthood, we will see each other again.
Take time to remember those you've lost today. And if you like, tell me about them. I'd love to hear.
Thanks for traveling today, with me and those I miss.
Page Traveler